With winter weather near, we need to think about how to keep baby warm in car seat without sacrificing safety issue. We all know that heavy clothing, including winter coats and snowsuits, should not be worn underneath the harness of a car seat.
Because during a car crash, fluffy padding immediately flattens out due to the force and that leaves some extra space under the harness. A child can then slip through the straps and be thrown from the seat.
Tips on How To Keep Baby Warm In Car Seat
1. Use A Blanket
Rather than wearing a puffy coat, have a big warm blanket and use it. Many children have their favorite blanket that they prefer. So they will not create a fuss about snuggling if you buckled them up in their favorite blanket.
2. Try Out A Fleece
When it's freezing cold in outside and toasty warm in your car, your infant could have an issue with overheating.
Fleece coats are a fantastic option for heavy coats and will not include a lot of padding below the harness straps. If you leave them unzipped, they will fit even better than the traditional winter coat.
3. Made For Car Seats
In case you are living in a cold area of your country, you might wish to have a car seat which features with all-weather "boot" that can help keep your child comfortable and warm.
READ MORE: What to do when Baby suddenly hates car seat?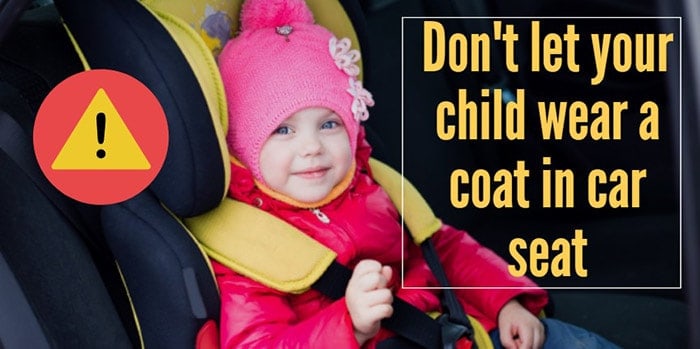 4. Consider Keeping The Straps Tight Of The Car Seat Harness
If you decide to wear multiple layers with the coats, then it can be difficult to tighten the harness. So try to pinch the straps of the car seat harness. So that layer does make any difficulties.
5. Turn Up The Heat
This is a no-brainer. When it is freezing, you have to be confident that your car is warm. So turn the heat up and make sure that temperature is suitable for everyone.
6. Wear Coats Backward
Another simple idea to keep kids warm at the car is just placing the coats on backward after strapped in. This is most likely one of the handiest way to stay warm.
7. Use Thin Layers
How frequently have you ever been bundled up for the cold then begin sweating the moment you go inside? Layering helps keep steady body temperature, which is vital for the child. Blankets supply a smooth coating to wrap around your baby on the road to the car, and it's also easy to remove as soon as you arrive.
When it's still chilly in the car, cover or wrap her with the blanket. And you have to do this before the car gets warm. Then remove it if she gets too warm to prevent overheating.
READ MORE: How To Keep Baby Cool In Stroller hot weather?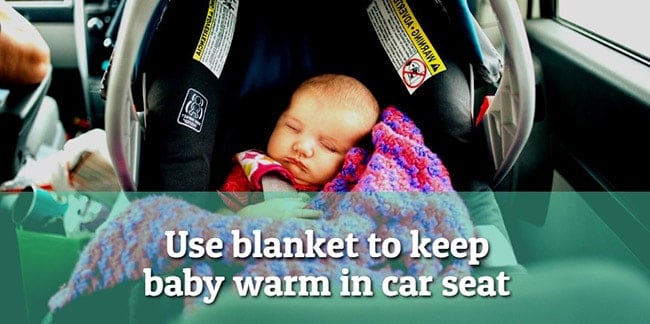 8. Do Not Overheat
It is natural to worry that, Is your child warm enough or not? So you have to take care that he does not get overly friendly. It happens then. It may make your kid uncomfortable on a car ride.
By correcting his layers along with also the car's internal temperature; consequently, it is possible to keep your kid cozy and chill onto a car ride.
9. Use A Car Seat Cover Only If It Doesn't Have A Layer Below The Infant.
You have to make it sure that nothing goes underneath and between your child's body. And also watch out for the harness straps. Make sure you leave the infant's face opened to prevent trapped air and re-breathing.
You have to be alert that many manufacturers produce car seat bundling products that are not that secure to use in the car.
READ MORE: Best Baby Gate For Narrow Doorway
10. Pack An Emergency Bag For Your Car
Always Keep dry clothes, additional blankets, hats, gloves and non-perishable snacks in your vehicle.
Why should a child not wear a coat in a car seat?
During a crash, all of the substance of a heavy winter coat or those cozy heavy sleeping bag such as bundling goods will start making the harness straps lose on the kid. If the harness straps are not comfortable on the kid, then they will not do their task of assisting the kid during a crash.
It is possible the straps may be loose the child slide through the straps and come from their child restraint. And it's not a pleasing situation at all.
Additionally, if you warm up the car, your children can get to overheat if they have these warm substances between them as well as the harness straps. They cannot remove.
Frequently Asked Questions
WHAT IS SAFE FOR A BABY TO WEAR IN A CAR SEAT?
Your little one can put a thin fleece coat over the top. Wearing long underwear can be another good option during the cold weather.
As a general guideline, babies should consider wearing an extra layer compared to adults. In case you've got a hat and a coat, your infant will likely to require a hat, coat, and blanket.
HOW CAN I TELL IF MY BABY IS TOO COLD?
If you think that your baby is feeling too warm, then try to touch his neck. If it is sweaty, you should remove a layer of his clothing. But if you think that your baby is feeling warm or acting unusual then check his temperature.
CAN A BABY WEAR A SNOWSUIT IN A CAR SEAT?
Comfortably Set your kid into the car seat and buckle the harnesses, but don't squeeze the straps hard. If it's possible to fit more than two fingers underneath the tackle in the kid's shoulder, then it is evident that the coat thick and isn't a safe option to use with the car seat.
CAN I PUT A BLANKET ON THE BABY IN THE CAR SEAT?
Use a thin receiving blanket – this can provide you with a great tight transplant which will be a fantastic air barrier – then put in a thicker sheet and if it's cold, sip that fine and close around the infant and under their toes.
HOW DO YOU BUNDLE A BABY IN WINTER?
If you are deciding on a heavy winter coat too, tuck your infant to a snowsuit or bunting, or coating on a few blankets. A few layers are a fantastic bet for a baby who is spending the day indoors. Begin with a bodysuit or onesie and put in a top coat like a fleece one-piece with toes.
So far, I have discussed on How To Keep Baby Warm In Car Seat during winter. If you think that I have missed something then please don't hesitate to let me know by commenting below.