Now you have decided that you will be fit again after having a baby. And you will start running again. Also, you have a stroller for your baby. You are thinking to jog along with your baby and the stroller. But the question is can you jog with a regular stroller?
This is a good question after all a stroller is a stroller regardless of what type or design. But believe me when you start running with the regular stroller you will regret.
I hope in the end you will know why you shouldn't jog with a regular stroller? But for that, you need to know the difference between a regular stroller and a jogging stroller.
What is the difference between a jogging stroller and regular stroller?
There are some valuable differences between a regular stroller and jogging strollers. The most crucial distinction is that jogging strollers have frames that designed for jogging and control at a rapid pace while regular strollers are made for a walk with your baby. So what does it mean for a jogging stroller?
The jogging stroller is wider than the typical stroller.
For better control, it has a fixed front wheel.
It has a steering system on the handlebar.
Jogging stroller Includes a hand strap.
Are heavier and durable than regular strollers for stability.
Usually, they have bigger wheels.
It Has more excellent suspension than regular strollers.
Almost always need your child to be seated vertically.
Jogging strollers are intended to make it simpler to run with it. Front wheels are tough to turn on a dime in contrast to conventional strollers.
Read More: What are the benefits Of Running With a Jogging Stroller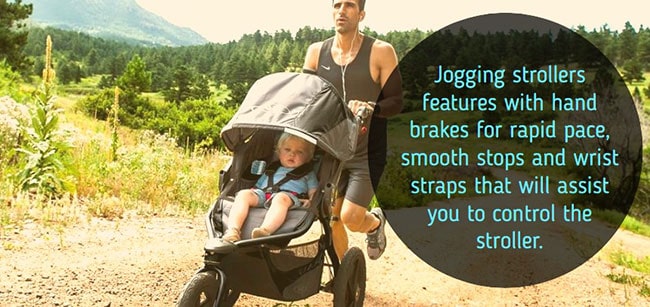 Can you Jog With A Regular Stroller ?
Below I have listed out some factor that describes why you shouldn't jog with a regular stroller. Hope It will help.
Jogging strollers are the ultimate choice for runners who want to run together with their infants for many reasons.
Jogging strollers are intended for kids who are at least six months old, as they don't fully recline for security reasons. This helps to avoid the temptation of running with a younger kid, who could get injuries because of the uneven movement of running.
But if you intend to bring your child with you during running. Then a regular stroller can be quite risky for you as well as your baby. Even when you're only considering to maintain average pace on rough streets, regular strollers are still not the right option. Listed below are the main problem if you want to jog with a regular stroller.
The ride will be extremely tough for your baby if you go through rough roads such as dirt or gravel paths.
It Can Be Quite Difficult to drive as the Tiny wheels may get stuck into uneven Areas of the Street.
Without any way of locking both front wheels, there's a high danger for them to turn suddenly. This may cause one to occurrence like injuries when you are moving in a jogging pace. It will be more severe If it happens when you are running.
Regular strollers do not have safeguards in place for the threat of the stroller rolling away once you operate them and also there are no brakes. Precautions and brakes Are Essential in case of falling, losing control of the stroller or sudden stops during the emergencies.
Why should you choose a jogging stroller for running?
As jogging strollers have a fixed front wheel, you will always have control during sudden turns or stops. As a result, you can avoid injuries.
Some jogging strollers come with a swivel wheel. It allows its users to use the stroller in a more casual setting.
Jogging strollers also feature hand brakes for rapid pace, smooth stops and wrist straps that will assist you to control the stroller.
If you want to jog with a stroller along with your baby, purchasing a jogging stroller is always a great idea.
When buying a jogging stroller, start looking for security features along with a size that's manageable for you.
A few of the characteristics to consider are stroller with drink holders, adequate space plus also a tap safety belt to keep your baby safe and protected during your run.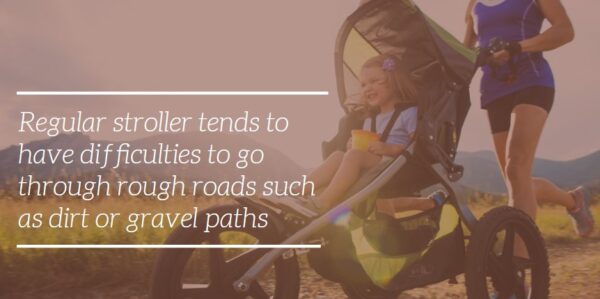 |FREQUENTLY ASKED QUESTIONS|
1. CAN A JOGGING STROLLER BE USED FOR EVERYDAY USE?
If you want to use a jogging stroller than consider buying the baby trend expedition, it may also be purchased as a single or dual stroller. Its front wheel locks into place for jogging and maybe unlocked to the swivel position for daily use. This stroller is equally easy to drive and move around corners.
2. WHY DO YOU NEED A JOGGING STROLLER FOR RUNNING?
Almost all jogging strollers have age limits. Nevertheless, you can't run with a regular stroller. They aren't built for running, and it'll be quite uncomfortable for baby and quite tricky when you push. But if you're jogging on an entirely flat stable surface, then It will be a different case.
3. IS IT HARDER TO RUN WHILE PUSHING A STROLLER?
Much tougher. Running downhill while pushing a stroller will probably be quicker than your pace running upward.
4. WHEN CAN YOU RUN WITH A BABY IN A JOGGING STROLLER?
You should not start running with your baby until he or she's at least six months old, because most babies cannot hold their head up until that age without any support. Once you and your kid are ready for the ride, remember a jogging stroller is the ultimate choice for running.
5. DO YOU BURN MORE CALORIES PUSHING A JOGGING STROLLER?
Pushing a jogging stroller with one hand when running burnt even more calories ( somewhere around 6 percent ), whereas the two-handed push-and-chase method resulted from the many calories burned. The latter method burned about 8 percent more energy compared to stroller-free running. In my book, there is just no choice to run using a regular stroller. The dangers involved are too much. As for me, I will only walk at the playground if I do not have a jogging stroller.
So far, I have discussed on Can you Jog with a Regular Stroller or not. If you think that I have missed something then please don't hesitate to let me know by commenting below.