Running with a jogging stroller can be fun If you stay determined. Most of the mom stop all exercises after having children and concentrate on taking care of their baby. But we shouldn't be like that rather than viewing it as an excuse to pull back on your goals, embrace the baby jogger. Have you considered running with your children? Jogging strollers become more popular every year because there are so many benefits of using them. We've made a list of the top 10 benefits of running with a jogging stroller. So that you can know the benefits and don't back down from running even though you have a baby.
10 Benefits Of Running With a Jogging Stroller
Quality Time With Your Child
If you decide to use the jogging stroller for running, then you can get the opportunity to spend quality time with your baby alone. It will also make the bond between you and your child more strong.
Opportunity To Look After The Body
When you have a baby, you probably don't have enough time to go to the fitness center. But when you get a jogging stroller, it won't be a problem anymore.
Take your child out with the Stroller and do some jogging with it for some time. You'll see you've just got toned arms inside a month. Pushing the Stroller requires a lot of energy, which makes your muscles strong too.
Stretching
A stroller bar is an excellent option for stretching. While do go out with Stroller you can just pull the break and perform stretching in the fresh air. So, now there is no need to hold the dusty sidebars or the filthy road signs anymore.
Read More: Can you Jog with a Regular Stroller ?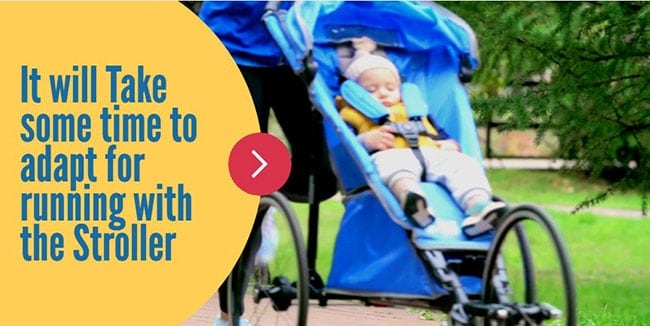 Added Workout
Nobody has the time to exercise with a couple of months baby in the house. It's not possible to make time for exercise. That's why you can use the time which you spend outside with your baby. Rather than just standing at the playground, run around and burn off those Excessive calories.
Extra Storage Capability
One of the main advantages of running with a jogging stroller is that you have the ideal place to store your accessories. When you run solo, you only can carry absolute essential gears.
But if you choose a stroller to run with you can bring more accessories with you. Now it is more comfortable to run into a place to do something since you have the accessories to freshen up anytime.
Fresh Air For Both Mom And Baby
Getting him out every day may be one of the best things that you can do to help his physical and psychological wellbeing. It not only beneficial for your child, but you can also take some fresh air after doing so much work at home.
Baby Will Get Used To With The Outdoor Activities
Once the baby goes outside every day, He'll assume that outside physical activity is a natural thing. When the baby gets used to this, you will see that the baby is so relaxed and comfortable.
Read More: How To Keep Baby Cool In Stroller Effectively?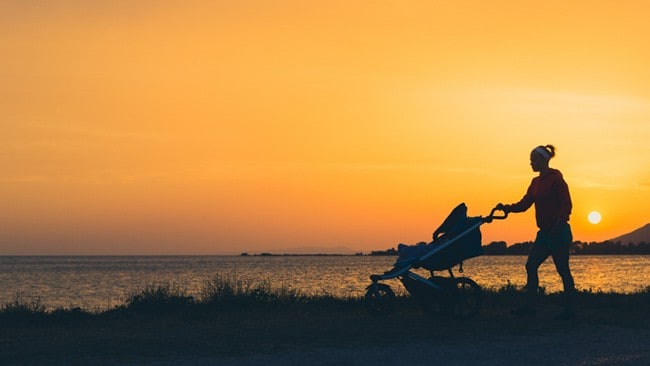 Keep Being You
You don't need to forget what you used to do before you had a baby. You like jogging and understand the health benefits of this. And a jogging stroller can help you to continue running despite you have a child. Becoming a parent will surely change your lifestyle.
By buying a jogging stroller, you make sure that an essential portion of your daily life will remain the same. You also don't wish to be away from your baby for a long time and this way you can have everything.
With the help of the Stroller, you can go running and also you can spend quality time with your baby. It is versatile so that you may run on the sidewalk or off the street. Just imagine how much pressure you will relieve.
Sense Of Style
Yes, I understand, you're super excited to become a parent, and I respect that too. But It doesn't mean that you have lost all sense of style just because you are a mother or father. Running with a jogging stroller is elegant, stylish, and reveals that you do take care of your health and invest in it.
Great Way To Get Your Baby Down For A Nap
If you can maintain the excellent timing, stroll with the baby can also help the child to sleep. Just go for jogging before you babies naptime, and the movement will help him to sleep well.
Read More: BABY ROLLING IN CRIB HITTING HEAD – WHAT YOU CAN DO ABOUT IT?
10 Tips for Running with Jogging Stroller
The most crucial factor is to stay safe when running. And when you are running with a jogging stroller including your baby, then you have to be more careful. Below are a few recommendations to make running with the jogging stroller comfortable, secure, and easier for you and your child.
Ensure that your baby is happy. If your baby is happy, then you will run even better.
Your baby Has to Be old enough to be in the Stroller.
If your baby is under 6 months old, then you shouldn't run with the Stroller unless you have a car seat adapter.
When you are running with the Stroller, you should lock the front wheel. This will keep the Stroller from sudden turning and causing one to crash or fall.
Save Your baby From cold or hot weather.
Keep Away from busy areas and do not run near the Vehicle.
Do Not Run Hands-Free
Don't even think about to run at your usual pace.
Take control of the Stroller. You shouldn't be moving so quickly that you can not control the jogging stroller.
Utilize a Complete harness for the baby
Do not think people are seeing you. Simply ignore it.
Don't push the Stroller too hard. Simply use your own body's momentum on the horizontal surface as a way to
move the jogging stroller ahead.
Take some time to adapt for running with the Stroller.
Running brings mothers a feeling of peace, confidence, and strength. It is vital during the mad early years of the motherhood. If you have a jogging stroller, you have the chance to get all the Benefits Of Running With a Jogging Stroller and make use of it.
So far, I have discussed on benefits of running with a jogging stroller. If you think that I have missed something then please don't hesitate to let me know by commenting below. I hope this post will help you to understand the advantages of running with a jogging stroller.