Camping with a baby in cold weather can be tricky, but it is very much possible. It can get a bit more complicated and need special preparation. When you're camping in the cold, you have to pay special attention to insulation and fuel while still keeping the adventure filled with fun.
But when you go camping in winter with your child the most asked question should be how you can keep your baby warm and cozy during the trip? Don't worry I have some tips that can certainly help you. So let's check them and prepare for the next winter camping.
Tips for Camping with a baby in cold weather
1. Bring Proper Clothing For Baby
Ensure that you pack lots of warm clothing for the baby. Layers work nicely because it is simple to remove or add a layer without having to replace the whole outfit. Having a warm hat is immensely important since the baby can drop lots of heat through their heads.
Also never forget to bring warm booties and mittens. weather changes continuously and suddenly so it's a good idea to keep that in mind and plan for that. You might also need to think about bringing a warm baby carrier for wearing an infant on long walks and hikes.
2. ALWAYS CHECK THE TEMPERATURE
Camping with a baby means you have to pay extra attention to the weather temperature. Consider bringing equipment such as mittens, warm hats, warm layers and snug for your baby.
But you have to know how to use them properly according to the situation. we used to believe that putting a hat on your baby will only be useful during the night time. but now we have found that using a hat is also necessary during rain and low temperature.
3. Do A Trial Run
If you are new to the winter camping and don't have experience then you should try trail running. You may try this in shifts — begin with doing dinner outside at night, then remain out before and following the next time, and then spend an entire night at the backyard prior to the actual camping trip. This will help the children to know what to expect during the trip.
4. Bring Boots With Great Traction
The last thing you want during camping is to slip or fall off while hiking. So, you have to ensure that you bought boots which fit well and have great grip. This is very important if there'll be ice or snow in your camping spot.
Read More: How To Keep Baby Warm In Car Seat during winter?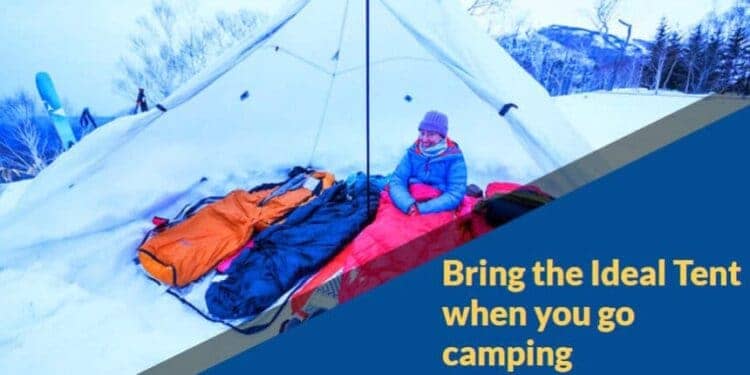 5. Bring The Ideal Tent
What will happen if you accidentally go to camping and its below-freezing weather? It's really crazy, right? So keeping this in the mind you should consider bringing four season tent with you.
Also, ensure that you have a rainfly and decent ventilation to maintain moisture and keep the frost away. You might even make a rug and place it outside the entrance. since it will make taking your boots off much easier.
6. Take Care Of Baby's Skin
Cold weather and wind can make skin dry and it can happen to anyone. but babies are especially sensitive to weather-related itching, dryness, and irritation. Ensure that you bring a useful cream and lip balm to use for the baby. Another great idea is to try it on your babies wrist so that you can have an idea on how it works.
7. Keep The Kids Moving
In the summertime, there is no issue with sitting around, read, play games and slowly examine the area. But In winter you have to keep moving to avoid cold.
So plan such activities where you need to keep moving. If there is snow in your camping spot, you can build a snowman or igloo, go ahead and ski, or put up a hiking scavenger hunt. If there is no snow, then try games like volleyball or kickball. It will help to keep everyone busy.
8. Cover Heads, Hands And Feet
More heat is lost from these regions than anywhere else. This proves hat is the most crucial pieces of equipment you can pack for camping. Make sure that your child's ears stay covered in cold.
Bring hats with Velcro straps and flaps. It will help you to feel confident that they'll remain in your babies head even through playtime. In the same way, lots of heat could be lost through the feet and hands. Extra blankets and footie-pajamas will also be great to bring together. Also don't forget to bring additional socks, footies, and mittens.
9. Choose The Perfect Location
Before going camping you have to choose a spot that is not very cold at night. Experienced campers can select the location where they will remain comfortable with their infant and has a manageable cold.
10. Bring Additional Equipment To Cover The Tent
Campers should always be prepared for wet and moist weather. And they should bring additional tarps or equipment to cover the tent.
Read More: How To Keep Baby Cool In Stroller Effectively?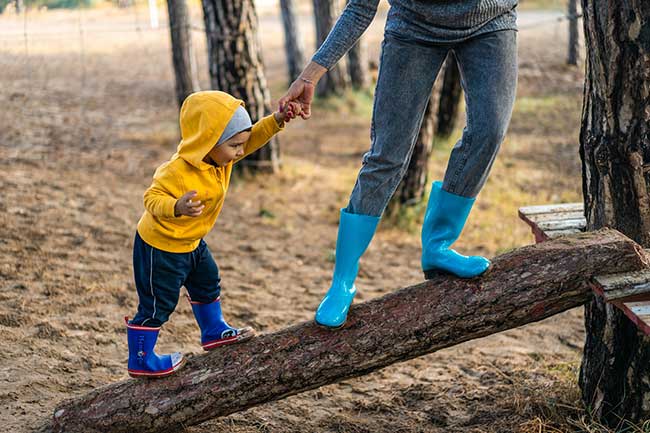 |FREQUENTLY ASKED QUESTIONS|
HOW COLD IS TOO COLD TO CAMP WITH A BABY?
Night temperatures of approximately 50°F to 75°F are suitable for camping.
WHAT DO I WANT FOR WINTER CAMPING?
You need to consider Bringing warm clothes, fleece pants, a coat, Midweight base layers, plus a waterproof jacket and trousers are standard. Also remember to bring hats, socks, sunglasses, and gloves.
HOW DO I KEEP MY BABY WARM WHILE CAMPING?
You can keep your baby warm by using a hat, warm clothes, and socks. Always keep a blanket to wrap up your baby in case the weather becomes too cold. Footsie pajamas are also very useful to keep the toe warm.
Once you set all the necessary things for the camping you have to make your infant warm and cozy for the camping trip. After making sure everything then you can enjoy the bliss of camping with fewer anxieties.
Again, always remember to keep your baby warm during the night by allowing them to wear a variety of layers of clothing, a thick and hat throughout sleep time. And take note of the temperature since it might change based upon the time of day.
So far, I have discussed on what you should do while you go for Camping with a baby in cold weather. If you think that I have missed something then please don't hesitate to let me know by commenting below.