Let's face it: parenting isn't a walk in the park. Between working, running errands or just keeping up with your kids, you have plenty to keep track of. But there's one thing that can make all of our lives easier – baby gates! Baby safety starts at home and investing in a good baby gate is worthwhile to help keep your little one safe from any potentially dangerous areas in your house. But how do you know which one is the right choice for your home? Read along as we explore everything you need to consider before making this important decision for your family's well-being!
How to choose right baby gate for your home
There are a variety of gate models and sizes on the market, so how do you know which one is right for your home? Read on to defeat child-induced chaos by discovering tips to select the perfect baby gate.
Figure out where you need the gate placed:
First, figure out exactly where you need the gate placed. If you have stairs in your house, you'll likely want to install a baby gate at the top and bottom of the stairs to keep your little one safe. Other important places to consider could be the kitchen, pool area, fireplace, bathroom, and even outdoor patios or backyards.
Choose sensibly between hardware-mounted and pressure-mounted baby gates:
Be very cautious in considering what type of mounting option works best. If you are seeking to secure an area like the top of stairs, a fireplace, or a pool specifically, a hardware-mounted baby gate is your safest bet. For all other areas, you will have the choice between a pressure-mounted baby gate and a hardware-mounted baby gate. Remember that it's always better to play it safe when it comes to matters like these.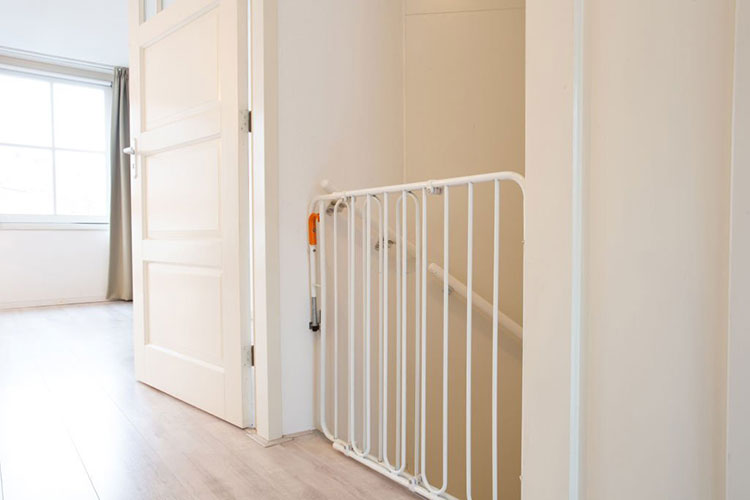 Materials:
Baby gates should be made of durable and high-quality material, so they will last – metal, wood, or fabric all offer great options. Metal gates are stronger and provide more security, whereas wooden gates can be both strong and lightweight and add an extra layer of charm to any home décor. If you want you can pick a mesh baby gate, but I would recommend not using a mesh baby gate at places like the top of the stairs.
Whichever type you choose, make sure that the baby gate complies with the latest safety standards so that you can ensure your little one remains safe in their home environment.
Locking mechanism:
It is essential to make sure that the baby gate has an intuitive and secure locking mechanism. Although making the gate difficult to open is important for ensuring kids can't get through it when you are busy, you also need to make sure that it won't prove too tricky for you as an adult. Some baby gates come with two-step latches or additional locks that take some force to get open. The best option here is one with a childproof lock that requires very little effort on your part but is still spacious enough to be comfortable when operating it. It needs to have a precise combination of simplicity and security.
Weather-resistant materials for outdoor baby gates:
When selecting an outdoor gate, make sure you go for a model that's made from weather-resistant materials – after all, you wouldn't want it to wither away under the torrential downpour of a tropical deluge! And if you live in an area with cold winters, choosing a robust and sturdy material is key. The well-constructed gate should last long enough to see your little one toddling through the garden and beyond!
Safety certification:
When it comes to choosing a baby gate for your home, safety should always come first. That's why it's so important to opt for a gate that is certified by trusted organizations like the Juvenile Products Manufacturers Association (JPMA) and the American Society for Testing and Materials (ASTM). Choosing one with these certifications ensures that the product not only meets strict security requirements but also minimizes the risk of harm to your beloved little one. So take a few moments before you make a purchase – making sure it complies with JPMA and ASTM standards could be a small price to pay for peace of mind!
The width of the opening:
Before you choose a baby gate, one of the important things to consider is the width of your opening. Measure the area where you will be placing the gate and use this measurement to help guide you when shopping for the perfect baby gate. Ensure that it can fit securely and will properly protect your little one from potential hazards. The majority of baby gates are adjustable, so if possible, opt for a model that fits with a wider range of opening widths for added convenience and adjustability.
The height of the baby gate:
While the size of the area you need to block is an important factor, it's also critical to ensure that the gate meets the height standard set by the Juvenile Products Manufacturers Association (JPMA). This standard requires that all baby gates measure at least 22 inches in height – which will provide a tall barrier to safety. But I would actually personally recommend finding a baby gate that stands at least 30 inches tall. This will increase the overall safety and security if you have a particularly active toddler, allowing you to rest easy knowing they are secure behind their baby gate. Take the time to research different styles, sizes, and materials in order to choose the perfect fit for your family's needs.
Availability of spare parts:
One factor you should consider while selecting a gate is whether spare parts are available. This can be helpful in case any part of the gate needs replacing, such as hardware or sections of the frame. It is best to purchase a brand that stands behind its products and offers easily accessible replacement parts so if something breaks, it can be quickly fixed without much hassle. Furthermore, they may even offer additional accessories that can upgrade the functionality of your baby gate over time. Ultimately, with the availability of spare parts being one pertinent factor, you can make an informed decision about the safety gate you purchase for your home.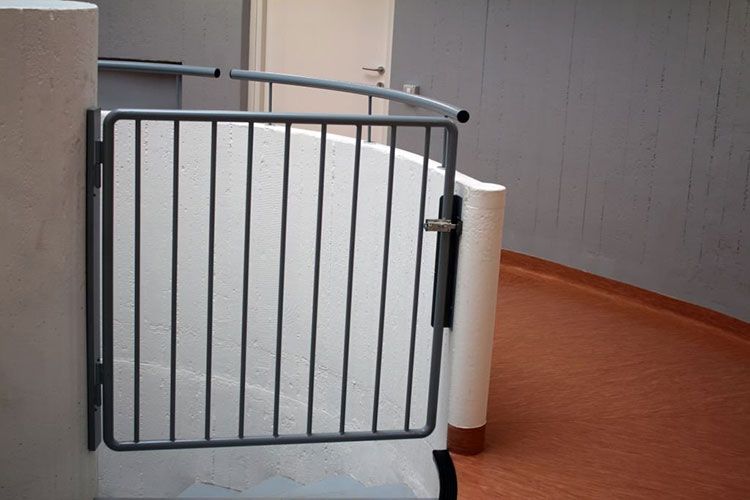 Gate design:
Take aesthetics into account – while functionality and security should be the primary goal when selecting a baby gate, making sure it matches the existing decor in your home is important too. Look for designs that use pleasing materials and patterns so it fits seamlessly into the rest of your home- whether it has a modern look or goes with more traditional elements. Taking this extra step helps ensure that young children are safe in their homes without sacrificing overall style.
Vertical bar:
When selecting a baby gate for your home, it is important to make sure that you choose one with a vertical bar design. This will ensure that it is more difficult for your child to climb the gate, providing an extra level of security for them.
Vertical bar spacing:
Make sure the vertical bars are no more than 3 inches apart because nothing's worse than having your child in an unfortunate head entrapment situation!
Of the ground distance:
The distance between the floor and the bottom of the baby gate must not exceed 2 inches.
No threshold bar:
If you plan to use the gate at the top of the stairs, a threshold bar can create a trip hazard and be dangerous for both you and your child. To ensure that your baby gate is safe for all members of your household, make sure there is no threshold bar when selecting your model. 
Two-way opening vs one-way opening:
Depending on where you plan to install the baby gate, you should consider whether a two-way opening or one-way opening gate will suit your needs best. A two-way opening gate provides maximum flexibility, allowing you to enter and exit with ease; however, if the location is at the top of a staircase it's essential that the baby gate swings in one direction only in order to prevent it from swinging over the stairs. Understanding your needs and how you plan to use a baby gate can help make sure that you choose one that respects safety rules while also fitting comfortably into your home.
Warranty:
An important factor to look for is the warranty of the product, so you can rest assured in knowing that if anything were to go wrong with the gate then it can be replaced or repaired. Make sure to read through the manufacturer's booklet with all terms and conditions carefully before making any purchase.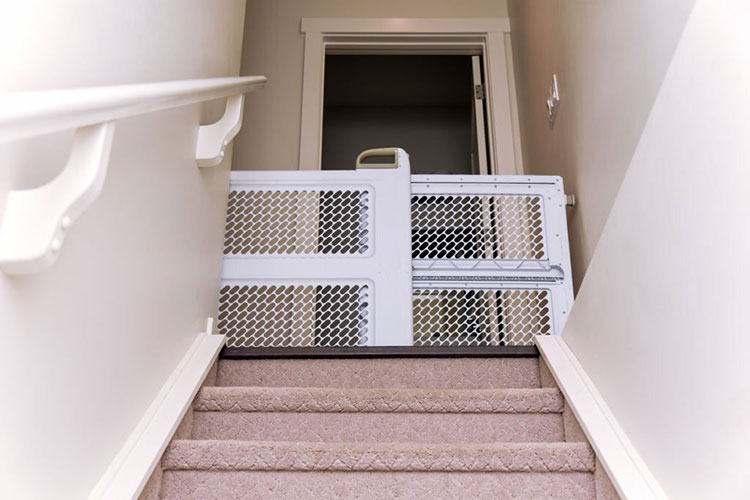 Read reviews:
Before buying a baby gate, it's important to do your research by reading reviews from trusted sources. Many of these reviews will list the features of different gates and also provide feedback on their effectiveness and ease of use. Additionally, some helpful reviews may suggest which type of gate would be best for various doorways or staircases in your home. Once you've done your research, you'll be able to confidently pick out the perfect baby gate for your home that ensures a safe environment for both you and your little one.
What if you have an angled opening:
If you have a weird opening where installation points are not straight across, then you'll need to look for a baby gate that can be installed at an angle. Usually, pressure-mounted baby gates don't give you such flexibility, it's only some of the hardware-mounted baby gates models can help you in such a situation. 
Is it useful for pets:
If you have pets in your house, it's important to consider a pet-proof gate that is chew-resistant and made of strong and durable materials. 
Ease of installation:
It's a good idea to take into account how easy the gate is to install – whether you're comfortable putting it up with the included instructions or if you'd rather get professional help. Additionally, check for any potential hazards or sharp edges that could be dangerous for babies and toddlers.
Visual Indicator:
To maximize safety, look for a model with a visual indicator that confirms that it has been securely locked and properly installed. This extra layer of safety will give you peace of mind knowing that your baby is secure in their play area or nursery. Additionally, these visual indicators can make installation much simpler and more consistent, ensuring optimal performance and reliability.
Auto lock feature:
One thing you should consider when picking a gate is whether it has an auto-lock feature. With this tool, once you close the door with a little push and walk away, it will automatically lock itself so you don't have to double-check the gate each time. The comfort of knowing your baby is secure can be great peace of mind knowing that one simple step was taken to protect them.
Price:
When considering the price, you should always ensure that the feature and build quality of the gate are suitable for your needs. Quality gates will last longer and help ensure that your child is safe from harm. It may be more expensive upfront, but it'll save you money in the long run due to not needing to replace them as often. Look around to compare pricing – sometimes buying online, or directly from a manufacturer can be cheaper than a retail store. Additionally, some stores offer discounts during certain times of the year such as Black Friday or holiday sales. Always do your research on what type of gate is safest for you and remember that quality is key when it comes to price.