Now you have decided that you either want to have a front or rear child bike seat. But how will you select which positioning is the perfect one for your family? Or which one is going to be beneficial for you personally? Stay with us and read our Front mounted child bike seat vs rear mounted review. Hopefully, you'll find some valuable information here.
Quick review on front mounted child bike seat vs rear mounted
What Is Front Mount Child Bike Seats
A front-mounted child bike seat is set up in the front of the adult's bicycle on the upper tub and behind the handlebars. Based on the manufacturer, it attaches to the headset or the seat post.
The conventional front-mounted seat includes a harness to maintain the child firmly strapped in, and those are acceptable for older infants and toddlers aged between 1 to 3 years.
Some new versions on the market are made for slightly older children age between 3 to 6 years. And those are open seat layout with no harness.
Pros of Front Mount Child Bike Seats
Your kid will have unblocked view.
You can see and speak with your child more comfortable, and make sure your kid is not unbuckling him/her self (not an issue with infants, but might be with older kids ).
Your kid has a security hand/headrest pillow to sleep when he/she wants during the trip.
Read More: How to get rid of Neck and shoulder pain from carrying baby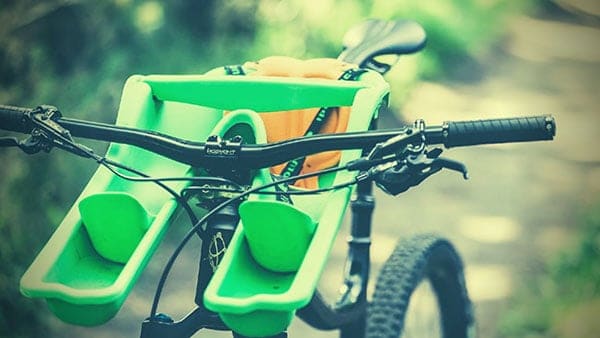 Cons Of Front Mount Child Bike Seats
It may feel a little bloated for your grownup. Ensure that your bike's top tube is long enough to stop your knees from hitting the back of the seat when pedaling.
Front-mounted seats cannot be utilized for as long as the rear-mounted seat because of size and weight limitations.
In case of a head-to-head crash, your tot is more vulnerable than before.
Rear Mount Child Bike Seats
As we all know that Rear-mounted child bike seats are the most common way of riding with your children. And most importantly they're cheap as well. They match on almost any bike, and they adapt to a vast variety of ages.
Generally, there are two types of rear-mounted seats. One is rear frame mount, and the other one is rear rack mount. Not many bike seats work together with all bikes, so you'll need to ensure whether the seat attaches to a bike rack or the seat post.
Pros Of Rear Mount Child Bike Seats
It's a lot easier to pedal and have on/off your bike with when your kid seat behind you instead of seating in front of you. Petite riders may find it a lot easier to maneuver with the seat behind them also. Just because they
do not need to reach around the kid and seat.
A lot of rear mount seats recline to let infant a comfortable sleep.
Your kid will be less exposed to the wind.
Most of the rear mounted seat can be used for more years than the front mounted seat.
Cons Of Rear Mount Child Bike Seats
You can not watch your child or converse easily to check them.
There can be an adjustment session for the kid to enjoy the ride being at the back of the bike.
A dual kickstand will make the bike feel more secure once you're putting youngsters on or carrying off them.
Read More: How to install rear facing car seat on Airplane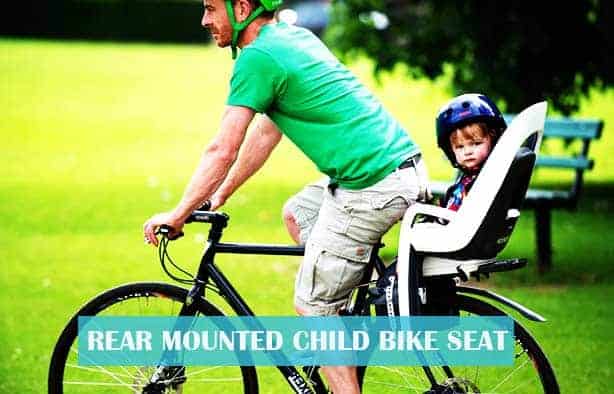 Which Bike Seat Is Right For You?
Deciding the Proper seat comes down to some Important factors:
Bike Compatibility:
Assess your bike's specs to guarantee the components works fine with the kind of carrier you are looking for.
Comfort level:
Some parents believe they have a more excellent balance and control with their kids at a front-mounted seat, but some say just the opposite. It is a personal taste, and your son or daughter is going to give an opinion, also!
Child Age:
A lot of front-mounted seats are made for younger riders which range from 9 months to 2 – or 3 years old. Even a weight limitation of approximately 35 lbs. Rear-mounted seats are appropriate from nine months up to about 45 lbs. Always consult with a seat's specifications to the most precise weight and age requirements.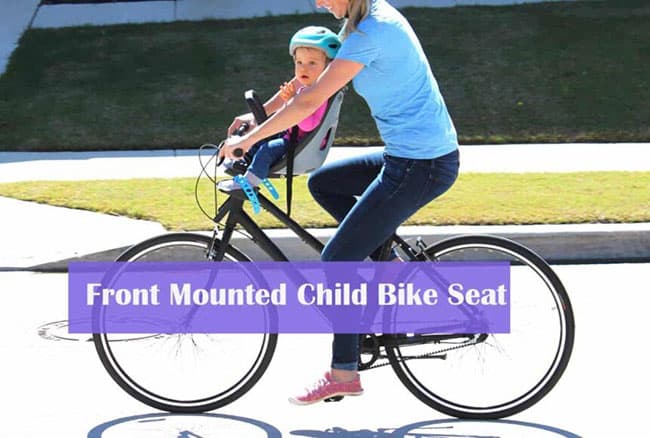 Frequently Asked Questions:
What age can a baby go on the back of a bike?
Most kid seats are acceptable for children between the ages of approximately nine months to four years. The lower limit is determined by the ability of your child to sit without any support. Which is, on the ground instead of propped up with any cushion.
How high should my child's bike seat be?
Ask your kid to place a minimum of one foot on the floor while staying in the saddle. He should be in a position to get 1 foot on the floor while still staying on the bike seat. If he/she is new to the bike seat, then it will be more safe to have a seat adjusted into a height that permits him/her to touch both feet on the floor.
At what age can children sit in the front seat?
All children under12 years should be sitting in the back. Airbags can injure your children while riding in the front seat. Buckle kids in the center of the back seat when you can, since it's the safest place in the vehicle.
Can a 6-month-old ride in a bike seat?
Many Dutch parents love to carry their infants from around six to nine months, who can sit upright themselves in a front seat mounted onto the handlebars. These front mounted seats can be used until the child weighs remain within 15 kg. that's in the range of roughly three years of age.
Can I ride my bike with a baby carrier?
It's for all these reasons that many bike shops and cycling manufacturer will not advise you to ride the cycle with your baby till they are nine months old and can sit without any support. As soon as your baby reaches the proper age to ride safely together, you will find lots of carrier alternatives to select from.
At the end of the day, you need to pick on a bike seat that you can afford, which satisfies your requirements and works with your bike correctly.
So before choosing any bike seats make it sure that the seat fits in your bike and your child feels comfortable on that. Just remember Not all seats are equivalent.
So far, we have discussed front mounted child bike seat vs rear mounted Review. If you think that we have missed something then please don't hesitate to let us know that by commenting below. We hope this post will help your baby to walk quickly.