If you're like me, you've probably been checking out baby gates lately with the intention of installing one in your home. And if you're also like me, you may have quickly realized that almost all of them are designed to be installed straight across. But what do you do if your doorway isn't straight? You could try to find a gate that's made to curve around corners, but they're not easy to come by. So is there another option? Can we install a baby gate on an angle? Spoiler alert: yes! Keep reading for instructions on how to do it.
What type of baby gate need to be used for an angled situation:
It has to be a hardware-mounted baby gate to cover an angled opening. A pressure-mounted baby gate does not have the flexibility to be installed at an angle.
The latch and hinge system of some of the hardware-mounted baby gates have the flexibility to cover an angled opening. But remember, not every hardware-mounted baby gate can not be installed at an angle. There are very few brands that have such a facility, which we will discuss later.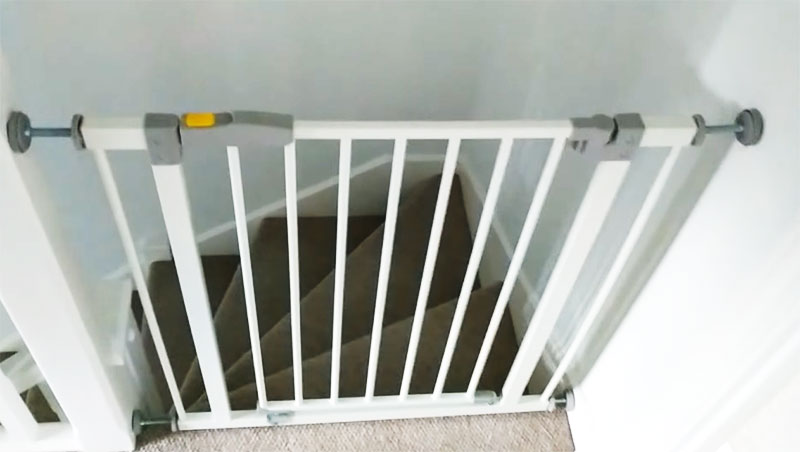 Why Can There Be An Angled Opening?
There can be a number of reasons why an angled installation of a baby gate might be necessary.
If you have a spiral or curved stair, you will often find the mounting points of baby gates are not straight across. Thus you will need a specialized baby gate to cover such an opening.
You may have banisters on both sides of your stairs, but they are not straight across from each other. In such a situation, an angled baby gate is the only option.
You have a banister or wall post on one side of your stairs, but you don't have a wall right across from your banister. A handrail gets in the way directly across from the banister. What would you do now? Use a angle mount baby gate.
We need to mount the baby gate on the stud for a secure and sturdy installation. But sometimes there can drywall straight across. Obviously, you can use a drywall anchor to mount the baby gate. But the safer option is to use an angled baby gate to be able to mount on the stud.
There can be an awkward front porch entrance. An angled baby gate would be handy.
Baby Gate Brands for Angled Opening:
KidCo G2100 Angle Mount Metal Safeway Gate:
KidCo has a patented hardware design to cover an angled opening. This baby gate is JPMA certified. This model also has a lifetime warranty.
Here is a video on how to install a baby gate on an angle (KidCo)
Retract-A-Gate 52″ Black by Smart Retract:
This is a retractable baby gate that can be installed at an angle. It's a JPMA-certified baby gate to be used on top of stairs or any other opening and can resist 200-pound push-out force.
Let's watch how a Retract-A-Gate installs easily at an angle
Cardinal Gates Stairway Angle Baby Gate:
This aluminum-made baby gate will mount at angles up to 30 degrees. This gate is also JPMA certified.
Installation video of Cardinal Gates Stairway Angle Baby Gate