5 Best Baby Carrier For Preemies in 2021
When you have a premature baby, It is quite natural to feel stressed and worried. Because preemie babies are sensitive than other healthy babies and need special care. So choosing the best baby carrier for preemies also need special attention.
When you choose a baby carrier for premature baby you have to make sure it is comfortable, keeps the baby close to the chest, provides head and neck support, creates a perfect snug position, not too loose and also offer you back support.
Considering all those options we have reviewed and listed five best baby carrier for preemies.
But before reviewing them in detail, we will discuss how a baby carrier can benefit premature baby and which factors to consider when you carry the premature baby.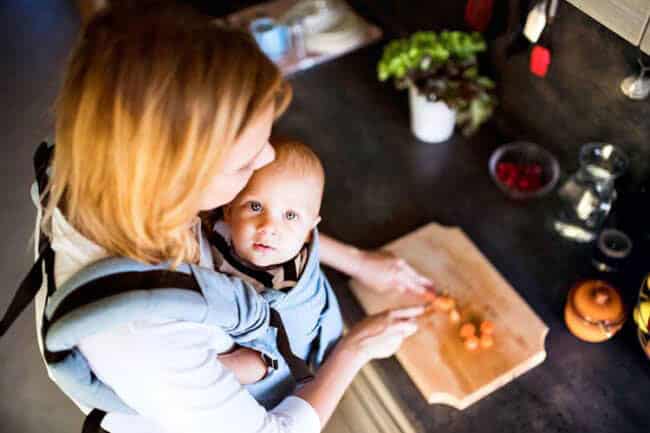 How baby carrier can Help Preemies


A premature baby needs Kangaroo Mother Care, and skin to skin contact up to 24 hours. Baby wrap carriers are perfect for skin-to-skin contact and keeping baby secure and snug.
Baby carrier also acts as a womb outside of the womb and develops invaluable bonding throughout this critical period.
Preemie baby is tempted to feed more often that  helps in weight gain and development;
'Mom's warmth assists in keeping baby warm
Baby carrier helps to keep the baby close to the 'mom's chests. As a result, 'Mom's breathing animates the 'baby's breath.
Smelling and hearing mom is very soothing for all baby. And it is essential for the premature baby as it keeps them calm instead of stress. It redirects them from crying to growing.
Preemie baby spends most of the time sleeping. A baby carrier helps them to be close to their mom and feel 'mom's warmth an heartbeat.
What is the right time to carry a Premature baby


Talk to the health care provider who is observing the health condition of your baby. You can carry your baby or take her home when she is
At least 4 pounds in weight
Can warm on her own without the support of an incubator
Can breastfeed
Can breath herself and gain weight steadily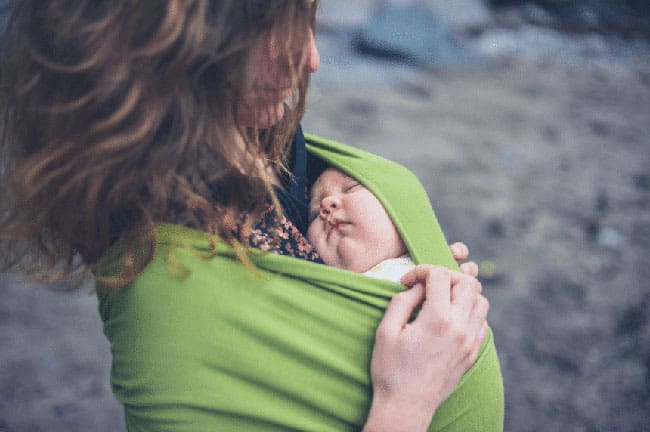 Things to Consider when you carry preemie baby


For many premature babies, Putting the baby into the carrier is not possible instantly. Because each baby has her capabilities and boundaries. Physical stability is also a question. So wait until your baby gets strong enough to be in the carrier.
Ensure that you can see babies face all the time. Baby's mouth and nose should be all the way out. Lots of cases have found where Babies gets suffocated in wraps and slings before.
Make sure you wrap the baby up as snug as you can but don't tight it too much so that that baby feel uncomfortable.
Also, remember baby sling keeps the baby curled in a C shape. It can promote the risk of breathing problems and suffocation. So Observe your baby for that.
It can create a stressful situation when you have a premature baby. Practicing Kangaroo Care is an excellent way for both parents to overcome this situation by developing an invaluable bond with the baby.
Preemie baby is sensitive than other normal babies. That's why you should practice before you carry the baby. You can practice with a doll or teddy bear.
Taking care of a premature baby can be a terrifying experience for parents. By wearing your baby, you will become attached to your preemie's needs. So You have to be confident and calm to become the best parent.
Here are our top picks for the Best Baby Carrier For Preemies. I have researched for hours to choose those baby carrier. I hope you will find some vital information from here.
1. Baby Wrap Ergo Carrier Sling By Sleepy Wrap
These baby carriers are made with a combination of 95% cotton and 5% spandex. As a result, they are soft and comfortable. Newborn to 35 lbs toddler are suitable to use this product.
This carrier designed ergonomically, and it distributes baby's weight so well that your back will remain stress-free. Another great thing about this carrier is, this one is machine washable.
But if you have twin baby, then the Baby Wrap Ergo is not the best option for you. And also petite mom 'won't feel comfortable in it.
Customer Review on this product:
Some customer said that the quality of the fabric is super and comfortable. It also holds the 'baby's head securely and gently. Another reviewer mentioned that this carrier helps to keep the baby in her chest, and she can breastfeed her child easily while carrying the baby.
But some customer also mentioned some drawbacks of this product. A user said the sling is too stretchy and felt like the whole thing needs tightening again. Other people mentioned they had difficulties in setting up the sling properly as the sling is too long.
2. Baby K'tan Original Baby Carrier
Baby k'tan carrier features with a double sling design that supports well, even while you are nursing.  
Baby k'tan baby wrap is lightweight and made from 100%  cotton. It keeps the airflow going and 'it's also easy to wash. The double sling design will also support you while you are nursing.
Most importantly, this carrier is super easy to wear, just like wearing a t-shirt. It also provides an ergonomic position for hip development and provides adequate head support for baby.
Newborn to 35 lbs baby can use it comfortably and it also works with preemies as well. Baby 'K'tan carrier also helps to create kangaroo and cradle positions.
Customer Review on this product:
A customer mentioned that the product 'doesn't have extra fabric in it, and It feels like putting on a shirt for the most part. Another Mom said with the previous carrier she used to spend most of the time just holding her baby. But after buying 'K'tan baby wrap, she can do other household work and remain handsfree. Another positive review was It is straightforward to use and much faster than buckle carriers.
But there are some negtaive review as well. A user said she found it hard to put her baby in the correct position in it when the baby was tiny. Another plus size mom said It runs small and didn't fit her anyway.  And finally, she Ended up making her carrier with Seersucker fabric.
3. Boba Baby Wrap Carrier (Editors Choice)
This wrap helps you to hold your baby close to your heart. It has 95 percent cotton that will allow natural airflow. There is also 5% spandax mixed into the cotton making the carrier more stretchy. As a result it helps with breastfeeding and holds the baby smoothly. You can easily use this carrier for preemies upto 35 lbs baby.  
There is only one way to tie, that's why there is no gussing work and keeps the baby in the correct position all the time. Boba Baby is also machine washable and offers a lifetime warranty.
Customer Review on this product:
A mom who used it said she had a premature baby and wanted a baby carrier that can hold her baby as close as possible to her chest. Then she started to use  Boba Baby Wrap Carrier, and it worked right away. Another user mentioned It's comfortable and soft. Whenever she puts her baby in the carrier, the baby falls asleep instantly.  
There are some negative reviews also. One said that the wrap is a bit warm and sometimes cause her baby to sweat. Another customer said It is so complicated to put on, especially when there is no one to help you, and there are so many annoying layers.
4. Moby Classic Baby Wrap
While preemies need body heat of her mom, Moby Moby Classic Baby Wrap provides exactly that skin to skin contact. This carrier is also comfortable, soft, and breathable made with 100% cotton. It distributes the weight evenly across the hip and back
Customer Review on this product:
A person said she had a micro- preemie baby and needed skin to skin contact. With the help of Moby wrap, she was able to maintain that closeness Even with all of the tubes and wires, was attached to her baby. Another reviewer said the carrier was comfortable and gave lots of support to her baby as she was able to adjust the wrap to the size of the baby. Also, when she puts her baby in it, the baby immediately gets relaxed and chill. As a result, she can do other housework easily — one thing to mention that this product is very comfy for women with large breast.
With many benefits, it also has some flaws. Some user mentioned, there is a lot of fabric, and when she stars wrapping, it ends up dragging on the floor. Another complaint was They faced difficulties when they wanted to quickly take the baby out and put the baby right back in the wrap.
5. Baby Wrap Ergo Carrier Sling by CuddleBug
This sling is available in nine colors. The most crucial part is you can use it in various ways. Like you can carry your baby facing you, facing forward and also around your hip too. The CuddleBug used Terry cotton from France and spandex in it.  The wrap is easy to clean and machine washable. Newborn to 35 pounds baby is perfect for this carrier and It also an effective baby carrier for premature baby
Customer Review on this product:
A mom said Its, a life saver for her preemie son who still needs to feel like he is in the Utero. Another review was the warp is soft and keep her baby snug and safe. And she also added this carrier is an excellent choice for grocery shopping where a bulky stroller won't work.
But there was some negative review also. One said It worked great for her preemie baby, but in hot weather, it is challenging to use because the wrap is not that breathable as she thought. A user also said that the carrier Stretches out after a couple wears although it tightens again after washing.
While selecting the baby carrier for premature baby always choose one which fits the baby securely, maintain the correct position, comfortable, cozy, and offers constant support to your back. And Considering all the features Boba Baby Wrap Carrier is the best baby carrier for preemies.
The price is reasonable, considering the quality it provides. Also, the fabric is soft and stretchy enough to make it comfortable and cozy. Its ergonomic design maintains perfect snug position and also offer back support to the wearer. Besides lots of positive review on this product makes it clear that it can be an excellent choice as the best baby carrier for premature babies.
So far, I have discussed on 5 Best Baby Carrier For Preemies. If you think that I have missed something then please don't hesitate to let me know that by commenting below. I hope this post will help you to find the perfect baby carrier for you and your baby.
Still need help? Check out more reviews on the baby carrier