Now that your baby can stand on her feet you wish to buy a jumper for her. Because of her exercise and amusement. However, do you have any idea of advantages or baby jumpers safety? Or Using a Baby Jumper Good Or Bad? Go on and check out this informative article to understand the advantages and disadvantages of a baby jumper.
What is a Baby Jumper?
A baby jumper is a sort of equipment that allows your baby to bounce using their feet to push from the floor. It produces a fun movement that your baby will adore. Though a jumper may offer lots of fun and smirk to your infant, But, it isn't a very secure accessory to play with.
Read More: Baby walker good or bad – pros and cons of baby walker
When can I place my baby in a jumper?
In fact, as soon as a baby age is about four to six weeks parents wish to present a few exercise-friendly toys which will help in infants growth. But within this moment, they need to remember that safety is the main priority. During the introduction of a baby jumper, you need to think about some security measures.
Now If you want to know the exact age limit of the for using the baby jumper, then I shall recommend not to use until your baby can hold her head without any support. So the exact infant jumper age should be three months, four months, five months even or less.
It is recommended by the expert not to introduce a baby jumper if your kid can't hold up their head without any support because their neck Isn't stiff enough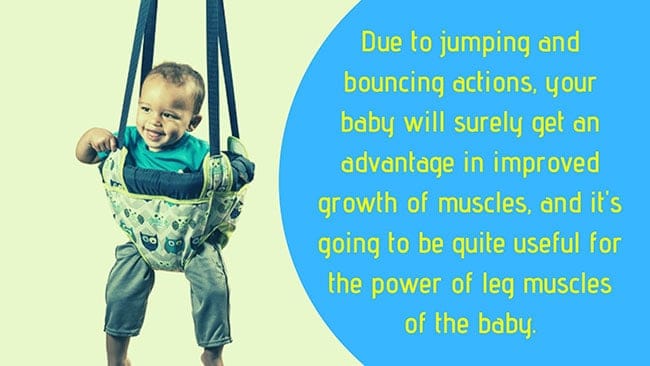 Baby Jumper Good Or Bad – Consider these factors
Well to decide this we need to review its pros and cons. Let's decide should you buy one or not.
Pros Of Using A Baby Jumper
Due to jumping and bouncing actions, your baby will surely get an advantage in improved growth of muscles, and it's going to be quite useful for the power of leg muscles of the baby.
Baby jumper equipped with a comfortable seat pad with various kinds of play choices. Some of the baby jumpers feature with few appealing toys. So the baby keeps them occupied to play with those toys, and also within this time the mother can perform some activity around the house.
It's not just valuable in the growth of muscles and strength for your baby, but it's also quite helpful to develop the abilities of pre-walking for your child.
Another most important advantage of a baby jumper is it can assist your kid to sleep.
Read More: How to fix asymmetrical crawling
Cons Of Using Baby Jumper
Applying a baby jumper can excite certain movements on your baby that will negatively impact your baby's different motion abilities. In the age as soon as your baby will utilize the jumper, he won't have sufficient control over her own body moves.
Medical experts Think That baby jumpers Can Lead to muscle imbalance. Because the babies are designed to sit on the chair or remain in an upright posture long before their backbone, bones or their muscles are prepared to move like that.
Your baby will play with the baby jumper by pressing it with her feet. It usually means your baby will get in the practice of pointing her feet ahead, and this might delay her walking.
A baby jumper introduces the many safety risks of triggering a head injury, During any mechanical failure.
If you use a doorway jumper, then the clamp may get weak or disconnected. It can cause you to split apart from your door frame. As a result, your baby might fall on the ground.
Some specialists Believe that baby jumpers May Lead to foot deformities.
READ MORE: How to install rear facing car seat on Airplane 
Tips for using baby jumper
Try to keep the floor clean. It will help your baby to jump in a healthy atmosphere.
Don't play with a jumper in tricky areas like close stairs and pools.
Try to avoid connecting toys with strings of the baby jumper.
For improved growth of your baby consider using the jumper for a short period. I suggest using a jumper just 15-20 minutes every day.
To prevent fall out through jumping you must affirm that a baby is firmly fitted.
Please try to stay in the area where your baby is playing with the jumper.
To stop falling on the floor and bumping into walls kindly ensure that your child is securely attached to the jumper.
In case your baby exceeds the height and weight limitation, please stop using it.
Cover the exposed springs and chains to avoid finger injuries.
Do not neglect to install the jumper on the level in addition to the surface.
So, What exactly should you do? Although specialists are discouraging parents from using a baby jumper it has been a favorite toy both for children and parents. I will advise you to utilize a baby jumper in moderation. Just forget whether Baby Jumper Good Or Bad, using the jumper for twenty minutes per day is the perfect time. In this way, you aren't imposing any muscle imbalance on your baby, while at precisely the exact same time not denying him from joy.
So far, I have discussed on whether Baby Jumper Good Or Bad for your child. If you think that I have missed something then please don't hesitate to let me know by commenting below. I hope this post will help you to understand how to use the baby jumper for your baby.